The perils of digital identity
31 May, 2022

The abortion industry
9 June, 2022
2 June, 2022
History repeats itself.  SaaStr, a San Francisco-based company that brings together, among other activities, a fantastic blog, a foundation, and an online learning platform focused on start-ups and SaaS companies, has organized an event in Barcelona to which only those vaccinated against covid-19 can attend, and in addition, must present a negative test made within 72 hours prior to the conference.  The globalist bulldozer conquering the population through discriminatory and unscientific actions.  Companies such as this one, cowardly repeat and take to the extreme measures of oppression typical of Nazism.
SaaStr Europe 2022 is scheduled to take place on June 7 and 8 at the CCIB (Barcelona International Convention Center) and will host over 2,500 people.  As of today, we can still read on their website the restrictive health and safety guidelines that require ("sorry, no exceptions") all participants to present a vaccination certificate including "booster" shots or proof of recovery, in addition to the recent test.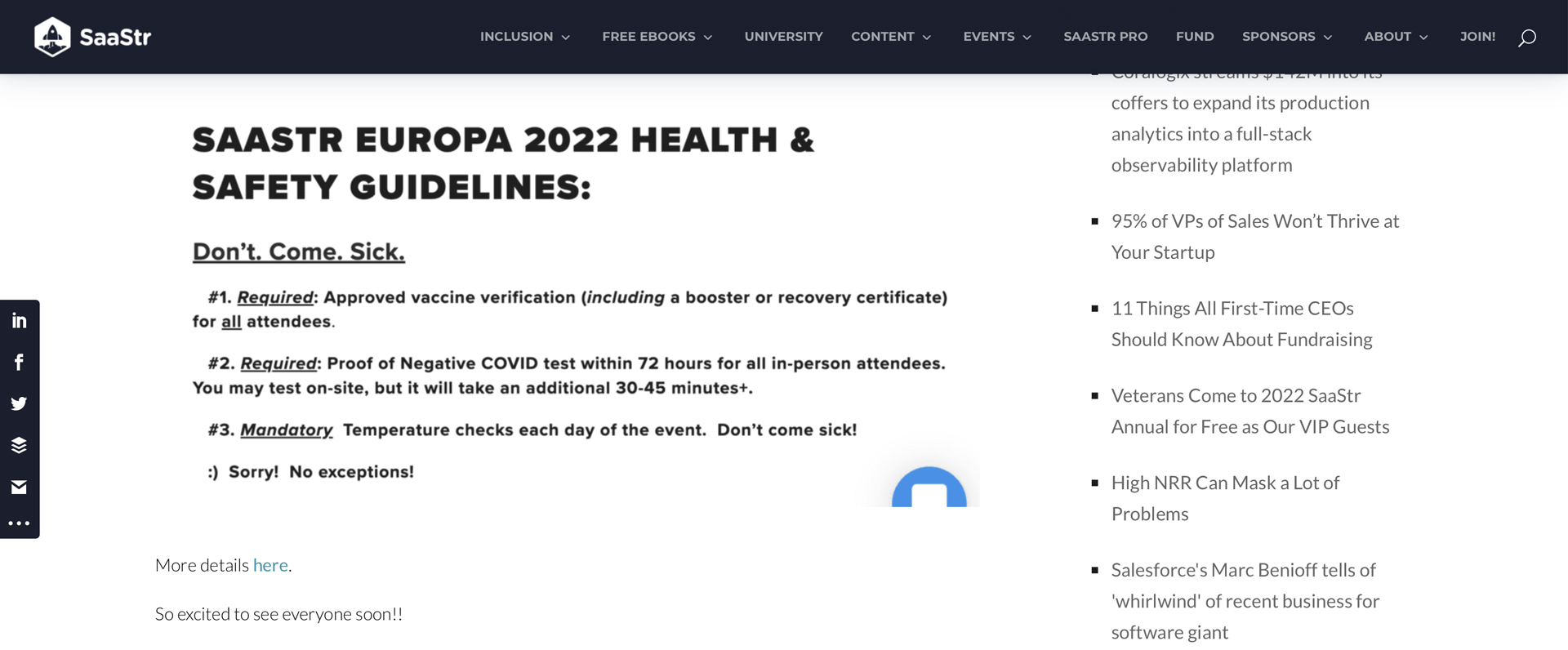 They are acknowledging that covid inoculations are useless, superimposing on, at least, three shots of the "super immunity boosters", the need for a test in the last few hours.  All this to justify that, if you are not part of the system, you are against the system.  They offer to perform on-site antigen tests to those who do not present one and it will be "mandatory" to undergo temperature controls inside the facilities.  What will they do if once inside you do not submit to this temperature taking?  What will happen if the data exceeds the limit they consider dangerous?  Will they throw you out of the event?  Will they lock you up in case you catch something? It is worth noting that many of the activities will take place outdoors, which makes SaaStr's behavior all the more absurd.  Once again, private organizations behaving as an arm of corruption and misgovernment cannot be tolerated.  Attending such an event would make us complicit in a creeping violation of our fundamental rights and our identity as free citizens.  This is a call to disobedience.
The organizers make no distinction regarding the origin of the participants.  Currently, Spain maintains entry bans for unvaccinated international travelers.  However, within our boundaries vaccination is not mandatory, the useless green passes have no effect and even face masks have been withdrawn from practically all areas.
Although from SaaStr they "understand" that events in Europe no longer maintain covid rules, they have decided to maintain the highest standards in this regard.  That is, they have made the determination to arbitrarily punish those interested in their event.  SaaStr advocates segregation and the distribution of tests that serve no purpose beyond singling out the non-compliant.
Once again, incoherence and ignorance prevail. On the one hand, the organization positions itself on the side of the socio-health dictatorship that we continue to suffer underhandedly and, on the other, it boasts a policy of "equality, inclusion and balance" that favors "underrepresented" groups in the B2B and SaaS universe.  Thus, as we can read on its website, the event reserves 500 free places for a variety of profiles with a blurry definition that, theoretically, do not have a fair representation in the field of technology. These places are for ("inclusive, but not limited"): LGBTIQ+, racialized, people with disabilities, war veterans, women... In other words, three quarters of society.  This is nothing more than absurd globalist nonsense, because with these policies it is difficult not to consider oneself as part of one of these "underrepresented" groups.
Companies that boast of being modern and inclusive should focus on putting the human being at the center, not on applying coercive measures against a very important part of society that, in addition, strictly complies with the law.  This is a new example of slave technology, by a company that blindly collaborates with the power of the elites, coming close to a covidiotic Nazism.
Boycott SaaStr Europe 2022 and all events that separate, that establish hypocritical policies and continue to defend the pro-globalism and dictatorial plandemic story.
For all the above and if I haven't made it clear: I WILL NOT BE GOING TO SaaStr BARCELONA 2022.
Authors: Saioa Echebarria & Alberto Urrea