Let's go back to being an entrepreneurial empire.
24 July, 2019

Feminism is not Victimism
28 July, 2021
3 October, 2019

Some Banks touch your heart, so it's normal for your heart to hurt when they tell you they are closing. I'm not exaggerating when I say that when I received ING's farewell email this morning, I almost teared up. I guess this is what happens when you're so good at client experience and you notify your "user in love" that you will no longer continue with their business.
Goodbye ING Corporate Banking. I couldn't be sadder professionally. When something is so good and its competition is so bad, you feel sad and angry at the same time. I have now tried signing up with Abanca, Bankia, Santander, BBVA, Pibank... and all the others that boast of having digital banking for companies. Enough to make you cry. Nobody can keep up with these Dutch gentlemen and I don't understand how anyone hasn't simply copied their entire website from top to bottom.
For those of you who aren't familiar with ING Corporate Banking, I have to tell you, I never – NEVER – set foot in a branch of theirs. There was no need. I completed the entire process online, I sent the documents requested by mail – an MRW messenger delivered a welcome package with passwords and, voilá: I was up and running! Nobody ever has to explain how to use the site, where to apply for a card, how to activate it, how to apply for additional cards for employees, how to set up a new account for the same company, another savings account... Nothing at all. The website was so straightforward that everything, or practically everything, was intuitive.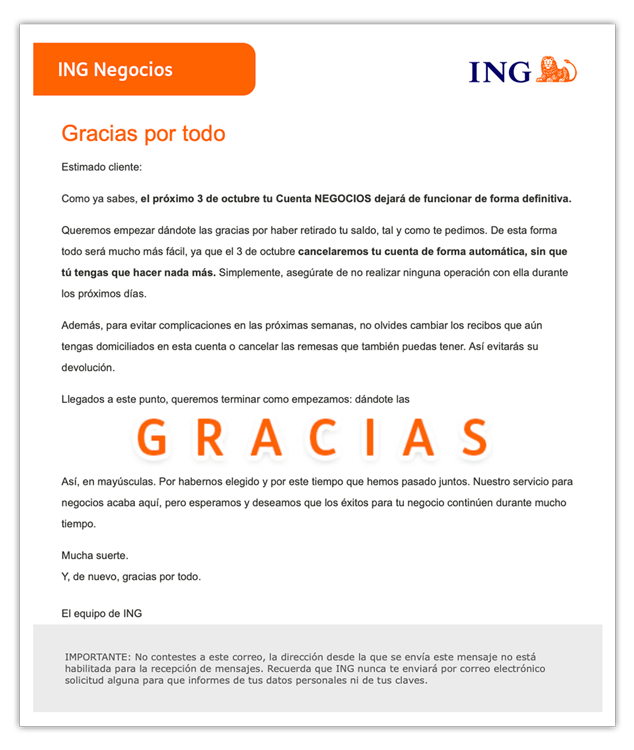 Now I am with other banks. I'm with other banks and I'm crazy mad: "online" registration processes where you end up having to make that trip to the office, continuous calls to the call center only available for a few hours from Monday to Friday, visits to the branch because the processes cannot be carried out online or cards that are not provided because, although I am partner and administrator of the company – I'm not a proxy – and the constant incident pending resolution in a "digital" bank. I swear what I say is true. An endless number of dreadful tales keeping me up at night and making me want to scream!
Why? Why did you leave us ING? Evil gossip speaks of a 7.5 billion € fine due to lack of proper identification and other money laundering issues. Others say that Corporate Banking was not profitable. And I wonder: why didn't anyone ask us, the business users? Apparently, there were 100,000 of us business customers. I would have been happy to pay 8 euros a month to keep the bank afloat in Spain. If half of the customers had felt the same way, the subscription revenue would have been almost 5 million euros. Couldn't anyone come up with any other idea that would make this service profitable? What annoys me the most is that nobody asked us. Surely, we could have found a solution together.
(Sigh)…R.I.P. ING Corporate Banking. I will miss you. A great corporate online banking service has died, and no other that resembles it exists.